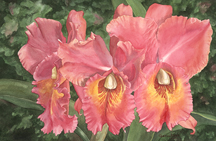 This gallery is devoted exclusively to watercolor paintings of Cattleya orchid species and hybrids. The "Queen of Orchids" with their ruffly lips and petals and intoxicating scent is the subject of all the art in this gallery. The art includes portraits of Blc George King 'Serendipity', BLC Ponkan's Southern Lady, Cattleya schroederae, Slc Jillian Lee. Lc Tiny Treasure, C Irene Finney, C Nigrescent, C bowringiana, and Laelia rubescense.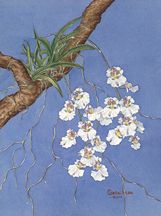 This gallery houses a display of watercolor paintings of various groups of orchids, including Phalaenopsis, Paphiopedilums, Equitant Oncidiums, Schomburgkias, Epidendrums, and native orchids of the Green Swamp.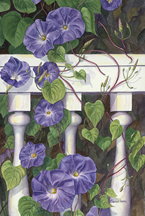 This large gallery includes watercolor florals and landscape paintings. Here you will find paintings of camellias, morning glories, water lilies, wisteria and cone flowers as well as fall leaves and landscapes.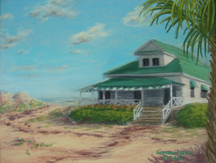 In this gallery you'll find pastel, pleine-aire landscape paintings of Southeastern North Carolina including: The Cape Fear River, Beaufort waterways, Harbor Island, Wrightsville Beach, Greenfield Lake, Lewis Strawberry Farm, The New Hanover County Arboretum, Hugh MacRae Park and downtown Wilmington.
Reproductions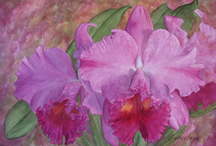 There are currently nine paintings available as reasonably-priced Limited-Edition Giclee' prints on 100% acid-free watercolor paper. The subjects include orchids, flowers and landscapes.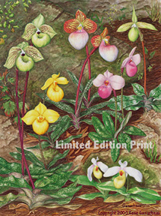 This gallery is devoted to reproductions/prints produced by the process of offset-lithography. The subjects include Cattleyas and Paphiopedilums.